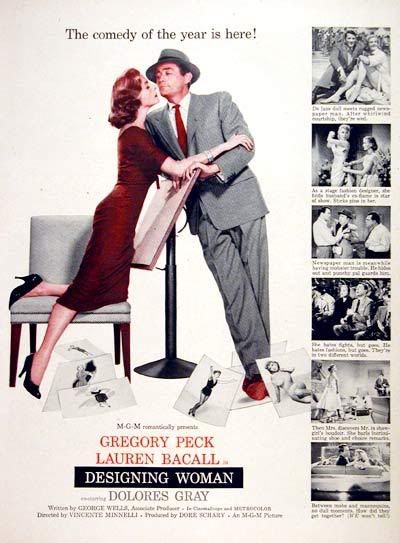 Starring two of my favourite actors ever,
Gregory Peck
and
Lauren Bacall
,
Designing Woman
is a hidden gem of a romantic comedy from 1957. I'm surprised that this isn't more well-known, because not only is this one of the funnier movies I've seen in a while, Peck and Bacall make one of the best screen teams ever. But unlike, say, Astaire and Rogers or Hepburn and Tracy, sadly Peck and Bacall only made this one film together (aside from one TV movie I think), which is kind of baffling considering the fantastic chemistry they have. Directed by
Vincente Minnelli
,
Designing Woman
is a bit of a different take on the 1942 Tracy-Hepburn classic
Woman of the Year
. Peck is Michael Hagen, a New York sports journalist on assignment in California. There he meets Marilla Brown (Bacall), a fashion designer also from the Big Apple, and after only four days together, the two get married and go back to NYC, where all the trouble starts. To begin with, in all the excitement of his marriage to Marilla, Michael's completely forgotten about his on-and-off girlfriend, Lori Shannon (Dolores Grey). Marilla discovers a torn up photo of the leggy showgirl in his apartment, but decides to bite her tongue and ignore it for as long as she can. Also, it turns out that Marilla is very rich in comparison to Michael, making him a bit uneasy (somehow this never came up in the days before). And then there's the sideplot of Michael's series of exposés on a corrupt boxing promoter who has some dangerous friends. All shenanigans aside, the biggest reasons to watch this film are the interplay of Peck and Bacall and the sharp script that won writer George Wells an Oscar for Best Screenplay, and had me laughing out loud.
Both Peck and Bacall are great in their roles. Gregory Peck is one of my favourite actors because he strikes the perfect balance - he's elegant but not stuffy, he can laugh at himself but not he's crude, and he's intelligent but not pretentious. Though probably best known for playing the venerable Atticus Finch in
To Kill a Mockingbird
, I prefer the younger Peck in his slightly edgier roles.
Designing Woman
is the third film where I've seen him play a journalist, (the others being
Gentleman's Agreement
and
Roman Holiday
- of course!) and I like the character of Michael Hagen because it lets him be a bit of a schmuck for a while - but not too much, because his innate goodness always shines through.
Meanwhile, Bacall is basically the coolest actress I've ever seen, bar none. No one can ever match her sultry-voiced, smart-chick cool, though Scarlett Johansson puts in a decent effort these days. As Marilla Brown, Bacall softens her image a bit by playing a fashion designer, but this is Lauren "just put your lips together and blow" Bacall we're talking about here, so this isn't your typical airy-fairy fashion bimbo. Marilla is self-assured and independent, and even though she ends up flying off the handle a bit about Michael's ex-girlfriend, it makes her more human and proves that she's not completely imperturbable. And even though she's part of the uber-snooty fashion world, Marilla is never snobby and always tries to make Michael feel included.
The other thing I liked about
Designing Woman
is how equal Michael and Marilla's relationship was. I actually don't like the title of the film, because it has some misleading connotations. First of all, it suggests that the movie is all about Marilla, which it's not, and it makes it seem like she's got an ulterior motive in having "designs" on Michael, like she's trying to entrap him, which is way off the mark. But anyways, I like how Marilla and Michael have such mutual respect for each other and try really hard to compromise to make each other happy, especially since they come from such different worlds. It's not about who wears the pants in the relationship, I didn't think there was a power struggle at all, which was refreshing. It's clear that Marilla's wealth makes Michael uncomfortable, but he swallows any trace of ego and agrees to move in to her considerably bigger pad. They both respect and support each other's careers, even though neither of them have the slightest understanding of their partner's jobs. And they try really hard to be civil to each other's friends, even though they both pretty much find the others intolerable. They're both hard-working, independent professionals, and when Michael calls Marilla at work, what he says basically sums it up: "I need to speak to Mrs. Michael Hagen - I mean, Marilla Brown." This isn't a relationship drowning in idealism, though, and they have more than enough obstacles, not the least of which being Michael's showgirl ex-girlfriend. I loved how Marilla didn't jump straight into cliché jealous lover mode, and remained controlled and empathetic until she's provoked one too many times by Michael's refusal to be honest and finally freaks out. As for Michael, his waffling is foolish but forgivable, in the light that he's just trying to keep Marilla from getting unnecessarily upset. He just happens to completely misjudge how to handle the situation, and underestimates both Marilla's perceptiveness and tolerance. And they're both stubborn, which doesn't help matters. Neither of them are perfect, but together Peck and Bacall make the perfect pair and an incredibly entertaining screen couple.
. m u s i c .: My Brightest Diamond - Disappear