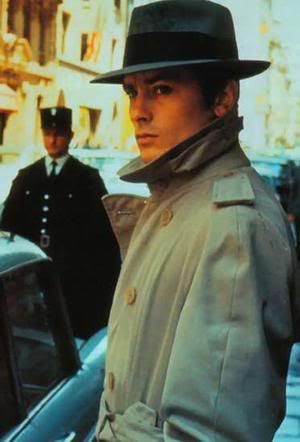 French director
Jean-Pierre Melville
's 1967 film
Le Samouraï
is a simple, stylish crime thriller that nods at classic Hollywood film noir. Starring
Alain Delon
, the film is a minimalist affair that teeters between being artfully restrained and just tediously slow. Delon plays contract killer Jef Costello, who is one of a number of suspects arrested for the murder of a nightclub owner that Costello kills at the beginning of the film. Roped into the affair are Jef's girlfriend Jane (played by Delon's then-wife,
Nathalie Delon
), her other boyfriend/sugar daddy Mr. Wiener, the beautiful nightclub pianist that sees Jef leave the scene of the crime, and a slew of other nightclub employee witnesses.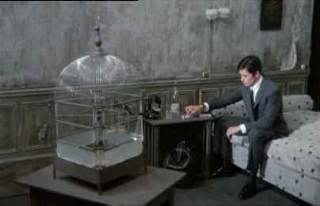 Delon, like Brad Pitt and Jude Law after him, was a blindingly good-looking leading man who deliberately sought darker roles to avoid being typecast as a handsome romantic hero. In Jef, Delon is cast as a seemingly emotionless anti-hero, a role that banishes any thought of him as a pretty-boy matinee idol. Jef is meant to be a samurai-type figure, a trained killer who operates with clean precision and his own code of honour. As Jef, Delon maintains such an impenetrable air of icy calm and remains so expressionless that, for the first half of the film, I wasn't entirely sure if his performance was superbly executed efficieny or just stiff. But there's a moment in the second half when Jef breaks from his hyper-even keel and strikes with such astonishing razor-sharpness that obliterated any trace of doubt that this wasn't a masterful performance by Delon. It also really helps that with his ice blue eyes, sharp trenchcoat and fedora, Delon is an impeccable figure of cool. Melville fills the screen with shades of steely grey that enhance the stark, spare mood of the film. There was something strangely beautiful about Jef's decrepit grey flat, a touch of bleak romance largely achieved by the significant birdcage that's one of the only adornments.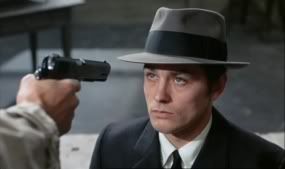 Despite the polished visuals and Delon's undeniable cool,
Le Samouraï
suffers because the focus on the crime procedural element isn't actually that compelling. There's definitely an interesting tension in the witnesses' operating by their own agendas and the police's frustrated attempts to nail Jef, and it's always intriguing to watch a story that casts the killer as the protagonist. But there was so much left unexplored - what was the nature of Jane and Jef's relationship? Jane and Mr. Wiemar? What's the story behind the mysterious pianist? What about the biggest enigma of all, Jef? - and while the air of mystery serves the minimalistic style well, it felt like there wasn't enough depth to the story to keep me interested, especially when Delon was offscreen. Nevertheless, if you're willing to sit through 105 minutes of slow-paced cat-and-mouse,
Le Samouraï
has a few worthwhile rewards, not the least of which being Delon's strikingly controlled performance.